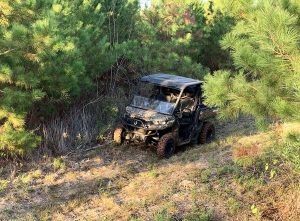 Opening day for the 2019 Georgia firearms deer season was wet. I mean it rained all day. But the southeast needed that rain in a big way and it did not stop deer activity. The next day we had sunshine as you can see in this photo of our Can-Am Defender from my stand. Right after that I harvested a spike buck. Opening day I harvested two does. So I've got a lot of venison I'll be freezing this week while taking a large portion to a local processor for summer sausage and hamburger.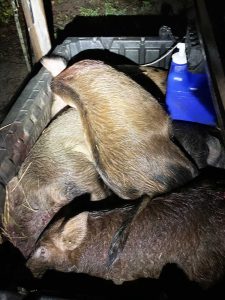 Now let's talk feral hogs. I am happy to report that my brother Paul deleted their number by seven on opening day. Here's a Can-Am Defender load of five of them. It sounds like a lot but we've got one group of them numbering almost forty and another that it is a little less. For the first time in the years I've been hunting in Georgia I'm seeing hogs on the sides of the roads that have been hit by cars. I counted five in just one hour long drive one morning. They are a serious problem. We're doing our part but it's not enough.
Georgia's season continues through mid-January so the Crystal Pig Hunt Club members will be out several times trying to reduce hog numbers and hopefully seeing some of the large bucks which are showing up on our cameras. If you hunt deer let me know how things are going for you. I've seen some great photos on social media already which include children who are getting their first opportunity to hunt with Mom or Dad.
Photos from this year's season, including pre-season work days are here: 2019 CPHC Photo Album