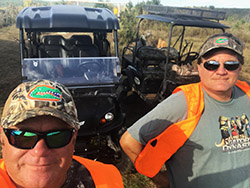 Bad Boy Off Road is part of Textron Specialized Vehicles, based in Augusta, GA. That's where I met Ben White to pick up a Recoil IS Crew to test drive during this hunting season here at the Pig.
Pig partner and brother, Paul Zimmerman, and I spent some days successfully hunting last week sharing time on my old model Bad Boy Buggy and the new machine. With the Recoil we immediately noticed how awesome the suspension is. Ruts in the road? Bumpy ground off road? The Bad Boy Recoil don't care!
I'm already looking forward to my next trip to the Pig for round two since I did not get my buck. I did get meat for the freezer with a couple does. Paul, however, got a nice 9 pt. buck and Clint Underwood who was hunting with us got his first deer ever.
I'm here to tell you that the battery operated Recoil is silent and that means a lot when getting you your stand. I know we have a lot of hunters in the AgWired Community so you might want to look into Bad Boy Off Road. I'll have a more complete review of the Recoil soon but at the first test period it is getting a thumbs up from me.
You can listen to me interview Ben here as part of my regular podcast on AgWired.com: ZimmCast with Ben White, Textron Specialized Vehicles