Hunting with a Gator Part Two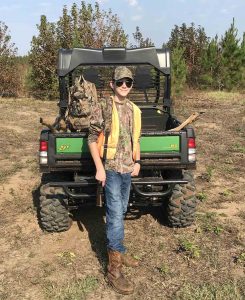 Hello and welcome to episode number two of a series of videos and posts I'm doing, along with other members of our Crystal Pig Hunt Club (CPHC), throughout the Georgia deer hunting season. We're well into this year's season and have been out on the property several times. I'm making plans for at least one more trip this year, keeping my finger crossed.
Here's Paul's son, Joe, who once again got his deer on his first trip out. He got to ride in the John Deere Gator XUV825i we've been test driving and likes it. In the video below you can hear him talk to Paul about hunting with a Gator while they are heading out to their stands on a sunny afternoon.
You can see photos of the Gator in the wild here: 2017 Deer Hunt – John Deere Gator Photo Album
2017 Deer Hunt – Getting to stand in a Gator

Chuck Zimmerman's nephew Joe went deer hunting with his Dad Paul. They seem to like having a John Deere Gator to get out into the woods with. He think this young man is going to be an awesome deerslayer!

Posted by AgWired on Thursday, December 7, 2017