Taking a Can-Am Out in the Woods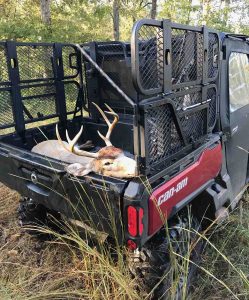 I'm a little behind updating here. The CPHC team has had a great start to the season.
Here's my next episode in a series coming to you from the Crystal Pig Hunt Club (CPHC) in Georgia. In this episode the focus is going to be on a Can-Am Defender XT which has been provided to us to use and evaluate how well it is suited to some serious deer hunting.
CPHC member, Paul Zimmerman, my brother, has been doing most of the driving in this vehicle, although I have done some also. In the video below we chat about our first impressions while riding out of camp for a load of firewood. You might see in the bed of the Defender a short swivel seat stand that we strapped into it, making the Defender a mobile deer stand!
Some first impressions on using the Can-Am include:
It has lots of power but runs quiet
The suspension is amazing
The turning radius has made is easier to turn around on narrow trails than we expected
Some accessories like winch and side/back panels around bed have come in very handy
So, that's a start. Paul has harvested two deer so far, one of them being the 8pt buck you see in the photo. So, in the points race (we don't really have one) he's in the lead. We're liking the Can-Am but will have more to come.
You can see photos of the Can-Am Defender in the wild here: 2017 Deer Hunt – Can-Am Defender Photo Album