Hunting with a John Deere Gator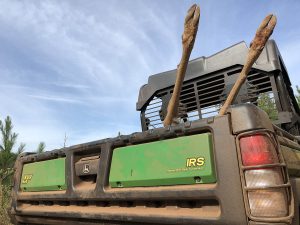 Howdy from The Pig. The CPHC team just continues to have good success early in the season. We've got a nice long season to go though since the Georgia season for firearms which started October 21 runs through January 14.
In this post I'm going to start letting you know how we are using a John Deere Gator XUV825i to test drive and evaluate its value to some serious deer hunting. John Deere has provided us with the use of this vehicle for most of the season and I have now had the opportunity to get some hours in and out of the woods and on the trails.
As you can see in the photo I have already harvested some deer and brought them out of the woods and back to our camp. My harvest so far consists of a 6pt buck, 2 does and a wild hog. They have all been bagged right near our trails fortunately for me. Speaking of trails, most of ours are freshly plowed by the U.S. Forest Service. They do a great job btw. But we've got some serious and deep sugar sand to run through and there are rough spots. You'll be able to see that in the video below.
Some first impressions on using the Gator include:
All the power I need to climb steep hills on deep sand and with a load in the bed
Very simple controls and layout. Easy to switch between 2-wheel and 4-wheel
Suspension makes the bumps and pot holes almost painless compared to past vehicles I've driven
Plenty of light from headlights for night time on the trail
John Deere has some accessories I already know I'd like to add!
So, I'll have more to say in upcoming episodes. I'm very satisfied with this unit and am not coming up with anything to complain about.
You can see photos of the Gator in the wild here: 2017 Deer Hunt – John Deere Gator Photo Album