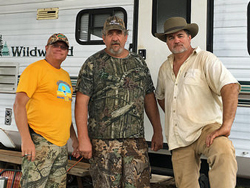 We may not be pretty (well I might be) but we have a good time. That's from l-r, me, Gary and Paul. Paul is sporting his new Akubra Snowy River hat I got him in Australia last fall. Just in case you were wondering.
I thought this would be a good opportunity to talk about our approach to the property we're leasing. We have completed our pole barn under which we camp with a nice RV and almost all the conveniences we'd like. But besides our own comfort we've invested a lot of blood, sweat, tears and cash into turning this land into a hunting lease. If you've been following us you know we started the year the property owner burned all the tree leftovers from lumber crews who cut down all the hard wood. Then the owner had pine trees planted. It has been a challenge in several ways.
We worked with a bull dozer operator to put a fire trail around the property, some road improvements and food plot areas. We also had signs made and posted them ourselves. We've worked at seeding the plots, our camp area and some of the road area. We want to have habitat that is good for the wildlife and also helps keep erosion down. I've got some new ideas for this after learning more about the Bayer CropScience Feed a Bee program! If you want to learn more about that check out an interview I did at the recent Potato Expo in Las Vegas.
As these pines are growing it is getting easier to see how important our roads and food plots have become. Deer haven't really had much reason to stay on the property but will as more cover grows up and as our plots improve each year. It's an on-going project to say the least.
But the benefits to the land, the wildlife, our fellowship and state of mind are well worth it. I hope we have many more hunts coming up.