2015-2016 Deer Season Over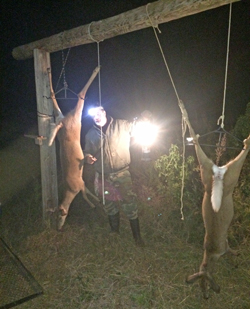 The Georgia deer season for 2015-16 is now over and The Pig saw a reduction in harvest. We hunted quite a bit at different times but it seems like the weather was not our friend this season.
In this pic Paul is taking care of a couple of does he harvested. So he has meat in the cooler. His boys, Eli, Luke and Joe all participated at different times. Eli and Luke are in college now and have jobs so their time was fairly limited. That's their problem though, not mine!
After about a year away from deer hunting Gary got out on the Pig but his harvest will hopefully be better this fall.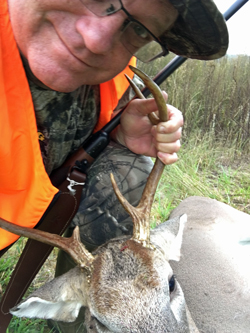 I had some luck on one of my trips to the Pig. I did get a small buck along with two does and that's meat in my freezer. I also found a great little place near me here in Pensacola that made snack sticks, summer and breakfast sausage for me.
We hunted pretty hard and did see quite a few deer but I don't think we timed the rut out and in fact, I'm not sure we even saw any sign of it this season. But we've got lots of deer working this property. Our trail cams at our feeders bear this out!