Tecomate Knows Value of Well Managed Food Plots
It's time to order some seed for our food plots on the CPHC. While we have been doing some research on seed I got a news release from a company you might be familiar with, Tecomate. So, I got connected with them to do a phone interview about their announcement of a strategic partnership. The interview is part of a weekly podcast I do on my AgWired.com website.
So, I thought I'd share that podcast with you here about the just announced alliance between Tecomate Wildlife Systems and Pinnacle Agriculture Holdings. Tecomate excels at modern food plot management with Tecomate Seed products and Pinnacle is an agricultural distribution business you might know best under the Sanders brand.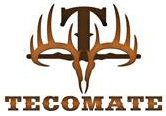 I'm going to share a conversation with Gaines Slade, VP of Operations for Tecomate. The alliance is opening up new distribution channels for the company via all the Pinnacle retail outlets. Here's what Tecomate President David Morris has to say about the deal

"This is a game changer for Tecomate and the wildlife food plot industry," said Tecomate President, David Morris. "Pinnacle, best known for its flagship southern brand, Sanders, brings vast production, logistics and distribution resources to the table. No other company can match their vertical integration, in seed, fertilizer and chemicals. Our continued longstanding partnership with Barenbrug, USA for premium and proprietary forage seed, together with the unsurpassed strength of Pinnacle in the cereal and commodity seed market, will allow Tecomate to offer targeted, competitively priced wildlife seed products of every type to meet every need – from that of the casual food plotter to the most serious game manager planting hundreds of acres of year-round plots. Our relationship with Pinnacle also facilitates the possibility for Tecomate-branded fertilizer and herbicides aimed at meeting the specific requirements of the wildlife food plot market."

And here's what Tommy Jumper, Pinnacle's VP had to say.



"We are extremely excited to join forces with Tecomate and combine our individual strengths for mutual success in the agricultural input and wildlife markets," said Tommy Jumper, Pinnacle's Vice President of Seed Strategy and Procurement. "By name and reputation in our respective industries, Pinnacle and Tecomate have long known a great deal about one another and recently determined that the time was right to work as a team to further enhance the product and service offerings we bring to our valued customers. Together, we hope to build a business that is exponentially more significant than either of us has previously enjoyed, and one that further benefits our loyal customer base."

Listen in to this week's program to learn more about what this alliance means and the value and importance of well-managed foot plots here: Tecomate and Pinnacle