CPHC Property Through the Glass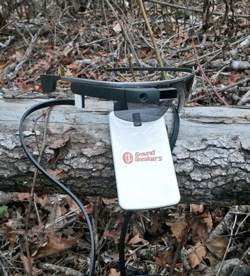 This past weekend I had another Crystal Pig Hunt Club woods experience. Unfortunately, I did not see any deer but the time in the woods is always wonderful. It was the last time for the 2013-14 deer season that I'll be out on the CPHC but we've got plenty more woods time and hunting planned.
While I was hunting I carried along my new Glass from Google which is basically like a computer you wear on your face! I and learning how to use it for my business. In the photo my Glass is being recharged with a Monsanto Ground Breakers mobile charger. I have noticed that the Glass battery doesn't last as long as I'm used to with my phone. That's why these mobile chargers come in so handy.
Earlier in the day I shot a video clip with my Glass as a test. It worked out okay and I think I'll be bringing it back to camp in the future. The clip is from the New Holland Rustler on the new and fresh grass growing roads we've been working on.